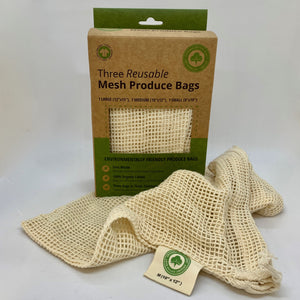 Produce Bags, Cotton, 3 Size Pack
Go From Market to Home with set of 3 environmentally friendly reusable produce bags. Bring your Ultra lightweight cotton drawstring bags to One World Zero Waste store or any market and fill em up with your favorite fresh fruits and veggies. When you get home transfer items to containers or veggie crisper, or keep in bags as they are refrigerator safe.
It's so easy to bring your food home and create zero-waste. If you're tired of bringing home the thin plastic bags, these are for you! Of course these are great for any other storage items you can think of also.
Material is lightweight, 100% certified organic cotton, double stitched.
Machine wash cold, hang dry
Small Bag - 8" x 10"

Ideal for: Strawberries, blueberries, garlic, cherry tomatoes, limes etc.

Medium Bag - 10" x 12"

Ideal for: Herbs, onions, avocados, lemons, cucumbers, apples, tomatoes etc.

Large Bag - 12" x 15"

Ideal for: Kale, lettuce, potatoes, zucchini, broccoli, celery, peppers etc.
#BeTheChange  AND  Be Prepared