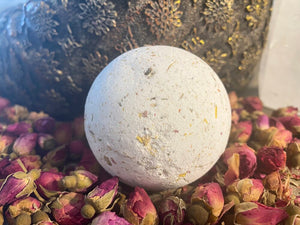 Cosmic Yoni Bath Bomb
Tap into your divine feminine power!

Made with a sacred blend of: Red Raspberry, Mugwort, Rose Pedal, Calendula Flower, Yarrow Leaf, Rosemary, Plantain Leaf, Coco Butter, baking soda, citric acid, and corn starch.

Some positive side effects may include reduced cramps/bloating, decreased heavy mensural flow, and regulation of the mensural cycle, toning and healing.