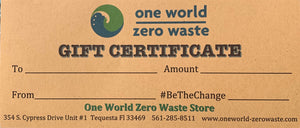 Gift Certificate for One World Zero Waste
Want to give a zero waste gift that will work for ANYONE? Look no further, Gift Certificates are here! Let them choose whatever they like from the website or in the store.
Gift Certificates can be sent directly to the recipient also. Make sure to write the home address that you want the gift certificate to be sent to at check out under comments! You can also add your own amount at checkout. 
We are here to help in any way we can, just give us a call.