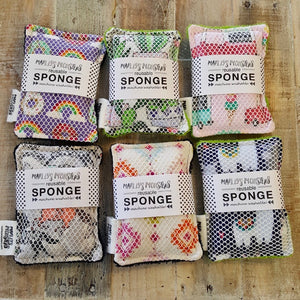 Washable Sponge
These cloth sponges are perfect to reuse for years to come! Easy to wash, simply toss them in the laundry with other towels or clothes. Abrasive on one side and terry cloth on the other.
Conventional sponges break down to microplastic and grow so much bacteria! The time to make the switch is now. You'll be glad you did! 
These sell really fast, so we send patterns at random. Contact us if you want us to send a picture of the patterns we have in stock to choose from. They're all super nice!
Works great with our solid Dish Block