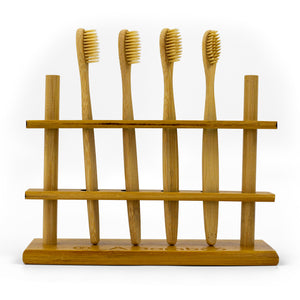 Bamboo Toothbrush Holder
This is the perfect toothbrush holder for your bamboo toothbrushes!
Not only is it simplistic and naturally beautiful, it allows the handle of your bamboo toothbrush to dry off properly, keeping the bottom clean and hygienic. 
Holds up to 4 toothbrushes 
Eco friendly and Plastic Free
Crafted with 100% bamboo 
Measures 8 by 3 in.