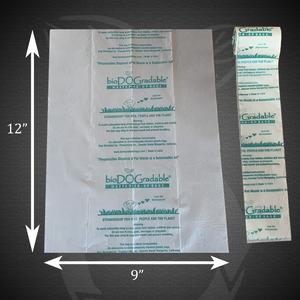 Compostable Dog Poop Bag Refills
Dog Poop Bags made from vegetable-based material, once used, biodogradable bags are consumed by micro-organisms and "Earthy" creatures within 3-6 months based on the environment, leaving no traces behind!
This is way better then oxo-degradable poop bags which breakdown into micro fragments creating a huge mess.
Bag Size 9" x 12"  single rolls of 15 bags 
Made in USA
Certified Biobased Product
NON-GMO, NON-PLA/NON-PE
Chemical-Free
Leak-Proof
Stronger Than Plastic Bags - Weight Capacity: 4.4 lbs.
Fits into the Dog Waste dispenser