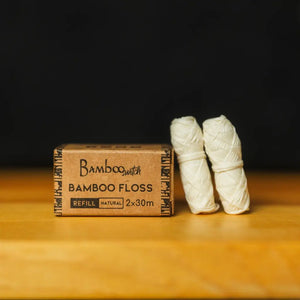 Floss Refill Pack
Vegan Bamboo Floss Refill Pack (2 spools) Our floss game is strong - literally! This bamboo floss is so strong!
Each refill pack comes with 2 spools.
Ingredients: Bamboo Plant Based Candelilla Wax Tea Tree Oil for Mint Infusion Charcoal for natural teeth whitening*
Floss Spool Dimensions: 2x 90 feet / 30 meters
Environmental Impact: Being completely compostable, both the bamboo container and bamboo floss are the best eco-friendly alternative to nylon floss. Nylon is a version of plastic and it overwhelms our landfills and oceans.